A trip into Colombia's coffee zone, the Coffee triangle                                             < >
The Colombien Coffee Region have wet and foggy rainforest, orchids, exotic birds, coffee and banana plantations, beautiful mountain villages. And to round it up, majestic views, nature trails, thermal spas and many more wonders in one of the most beautiful regions of Colombia.
This Green Heart of Colombia is also called Coffee Cultural Landscape, as in June 2011 it was declared World Heritage by UNESCO. Around 24,000 coffee farms produce together one of the best coffees in the world.
Pereira, located right in the center of the coffee region, at the foot of the Andes, offers visitors from around the world the ideal starting point for a number of interesting excursions and walks into the fascinating tropical environment. Whether in the Department of Risaralda, Caldas and Quindio, or the Valle del Cauca. Many destinations really worth visiting are located only 1 or 2 hours away from the city.
The three, well, actually four provinces making the coffee region differ markedly from one another, in terms of their topography and flora, thereby offering a wonderful contrast. Valle del Cauca extends from Cartago to Cali forming a completely flat strip. Quindio offers, instead, a rather hilly landscape. Risaralda meanwhile, offers a glimpse into higher mountains with broad valleys. In Caldas, however, the highlands of the Cordillera Central are awaiting you.
Let's start with a tour of Salento and the Cocora Valley. In Salento, you have the viewpoint and the Handicrafts Street with its finely elaborately constructed and decorated balconies. In the Cocora valley, the famous wax palms, a multitude of beautiful multicolored birds, such as the hummingbirds and the lovely Barranquero.

From the valley are trails leading us through the mountains of the Andes. On the way we will find rare orchids on the roadside, bromeliads and a variety of plants that occur only above 3,000 meters. Around Salento, there are some beautiful trails with fantastic views of the mountainous surroundings.
Otún Quimbaya is a natural park of the Risaralda province, which can be reached from Pereira in less than 30 minutes. Here again, nature is bright green, with plants of enormous leaves, ferns reminding us of the dinosaur age and of course, more and more birds in abundance.
This area is visited not only by amateur photographers but also particularly by professional ornithologists seeking to do their birdwatching there. A nature walk to the majestic waterfalls is something you shouldn't miss, including the sighting of many different butterfly species.
Alto del Nudo is Pereira's overlooking hill. A landscape marked by steep slopes and many separate farms. All about the hill, coffee is grown. You will experience what a bird feels and see from its perspective the coffee landscape from the point where the top area of Alto del Nudo begins. Once in a while you will see crossing the road one of these green non-poisonous snakes that can reach up to 6 ft. in length. Views to the highest snowy peak of the coffee region are also part of the plan. The beautiful view of the cities of Pereira and Dosquebradas is also impressive.
A landmark is the Belalcázar Christ Statue . On the way, zigzagging past us, to our left and right, banana plantations. From time to time, as well, we may catch a glimpse of the Cauca and Risaralda rivers. Heliconias and many other flowering plants decorate the way.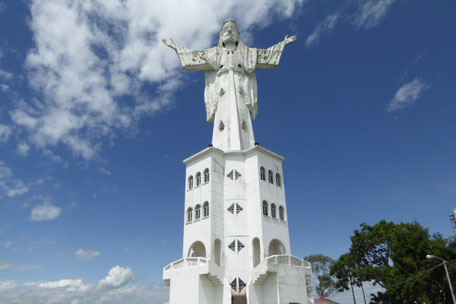 Anyone wishing to see the Nevado del Ruiz not from afar but having a close encounter with it, can reach its 13,000 ft by car.
Nature is so incredibly diverse here. Valle del Cauca is covered with sugarcane plantations, and the more you climb the more banana and coffee plantations side by side with fruit crops and even crops of various leafy vegetables you will see. Coffee plants are widely grown in a height that can go up to 6,500 ft. For this reason, there is here a type of coffee called 'highland coffee'. In the flowering season, the coffee flowers give away their wonderful scents in many different notes. Up to 48 different such scents have been recorded around the world so far.
Amid all this bamboo groves, or guaduales as they are called, in Colombia pop up here and there. A sort of bamboo is common here, of which there are 34 types in many areas of South America. This bamboo sort, known as Guadua, can grow up to 20 cm per day. It is in itself a very popular building material in housing as well as for making crafts. Moreover, it is a great enemy of CO². A bamboo requires up to four years to reach maturity, then it can now be cut down, preferably in the early hours of the morning, of course, because it is at this time that the stem contains the least amount of water.

The extraordinarily beautiful nature is also home to many species of birds and butterflies, but also tropical spiders and snakes. Nevertheless, most snakes that occur in the coffee are non-poisonous species.
In inhospitable, hard-to-access areas there tapirs, spectacled bears, cougars, howler monkeys and deer.

The amazing nature, the giant plant kingdom, the numerous and diverse birds and butterfly species, gorgeous cloud formations, which occur mainly in the rainy season, make the coffee region a paradise for nature lovers. Aromas of eucalyptus forests, crops of onion, as well as many herbs such as citronella accompany you on your walks through this lush natural landscape.

We have gathered here in a photo album for you, a glimpse of the natural beauty of the region.