Tayrona National Park in Colombia                                                                            < >
represents the Caribbean and is undoubtedly one of the most beautiful national parks in the country. The natural paradise with its wonderful coral beaches, turquoise sea, jungle, which rolls up to the lonely beaches, offers a dreamlike and unique natural scenery, which invites you to discover, enjoy and relax as well as a beach holiday.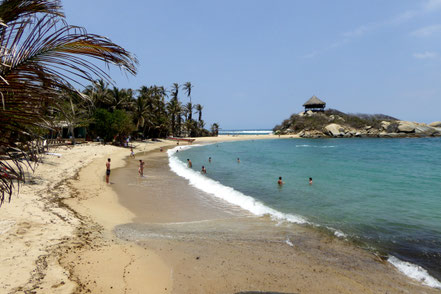 And not only that! The Sierra Nevada, the highest coastal mountain range in the world, majestically frames the Tayrona National Park. It is a special flair to experience jungle, strandidylle and high mountains in one.
A varied fauna and flora extends in the approx. 150 km² protected nature area, which consists of two thirds land area and one third sea, with its tropical coral reefs. Among the more than 770 plant and more than 400 animal species there are about 27 fauna and flora species, which only occur in Tayrona.
Also protected are the historical sites of the park's indigenous people, the Tayrona Indians. Hidden in the jungle is the Pueblito "Chairama", once inhabited by the Tayrona Indians. The ruins of this magical, sacred place, which was inhabited by the Indians about 1,200 years ago, are still guarded today by their descendants, the Kogui Indians.
The Tayrona National Park is a must for every nature lover and Colombian traveller and the tours should pay special attention to the tropical, climatic conditions. Sufficient drinking water, adapted trekking clothes and shoes, sunscreen and mosquito repellent are part of the basic equipment.
The Sierra Nevada, which rises imposingly behind the Tayrona National Park with its snow-covered peaks over 5,000 m high, is another highlight of Colombia's Caribbean coast. Here, nature tourists also get their money's worth.
Whether hiking, mountain bike tours or the infamous tour to the Ciudad Perdida (lost city) make your holiday an incomparable experience.
Cafeteratours leads you to the most beautiful and attractive destinations in and outside the Tayrona National Park and into the Sierra Nevada. Alternatively, individual tours can be booked.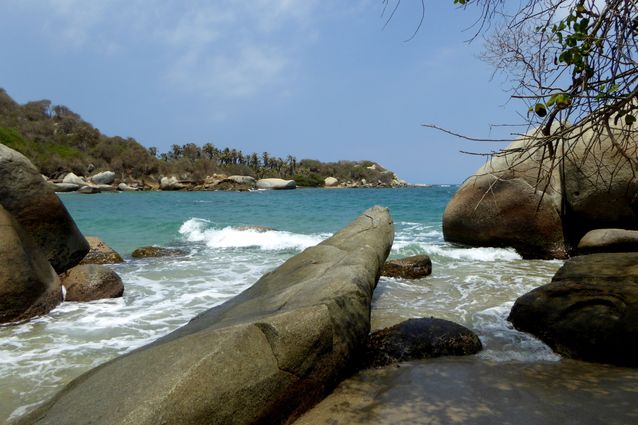 And here is a video of the short trip to the Caribbean coast of Colombia