The Willys Jeep, a never-ending story,                                                                   < >
because there's no end in sight. These jeeps were built for eternity. Willys Jeeps, a trademark of our region!
The first jeeps came to Colombia in the 50s. They were imported by the Colombian Ministry of Defence and soon became very popular with Colombian coffee farmers, who saw in this vehicle the qualities necessary for the difficult road conditions in the mountainous regions of the country. In the 1950s, the vehicles were still equipped with front winches, pulleys for power stations, mills, water pumps and coffee peelers. And some with ploughs and rakes to replace oxen in agriculture.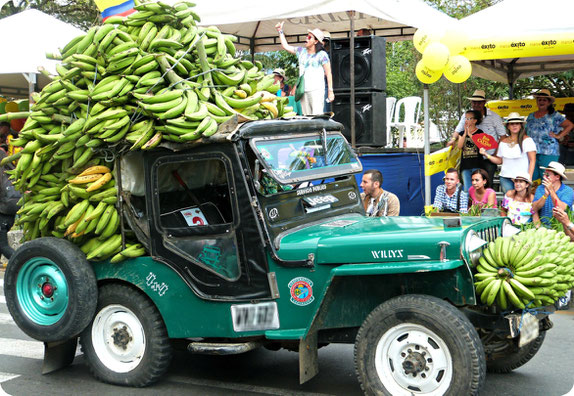 Followed by the first versions, further jeeps in new versions came to Colombia in the 60s. Other superstructures, longer versions, stronger engines.
They were also used by the military. They were perfectly suited for the rugged topography of the country.
In addition to transporting coffee, jeeps were and are used to transport many other agricultural products.
To be transported:
- Coffee, banana plants and many other fruits and vegetables.
- Household goods, baskets, cupboards
- animals
- sometimes all the belongings are stashed on top of it.
Today, they are also used regularly for transporting people.
It is not unusual for 10-25 people to sit and stand in, on, next to, in front of, behind and on the roof of a Willy. Because of this characteristic, the jeeps are also known locally in Spanish: "mulitas Mecánicas" (or mechanical mules). 
Meanwhile, the Willys has become a landmark of coffee culture. Lovingly restored jeeps are used to transport tourists.
In February 2006 a Guinness World Record was set for the longest parade (Yipao) of Willys Jeeps. More than 370 Willys were involved.